Congratulations to

Don

for winning the nomination and designation of COM - Critiquer of the Month for February 2006!






WAY TO GO!





COM's Laurel Wreath Award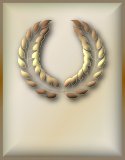 *Graphic provided by
Celtic Castle Designs

Your consistent, considerate, remarkable, outstanding in-depth critiques have earned you the designation of COM of the Mosaic. Your COM mini plaque will be displayed in your signature! You have led your Muse to bask in the glory of the laurel wreath known as the COM.



Congratulations! You have added your special touches to our Mosaic in style. Thank you! JOY to you, oh mighty one!








Cheers!
Mosaic Musings Staff