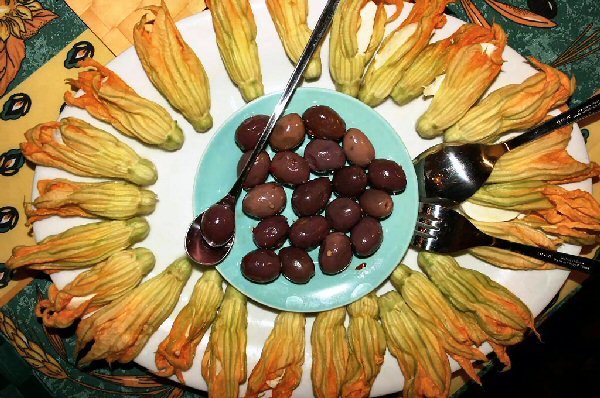 (Glossary of Italian terms used in the poem printed below the poem to assist with understanding.)
Enjoy!
Gastronomic Flowers
Stiff linen,
blushing tomatoes
unsalted bread
lustrous olives
zucchini flowers
buffalo mozzarella.
Corks eased -
Chianti splashes -
colouring glass,
blissful laughter.
Docile wind
rustles vines;
lavender floats
in spacious windows.
Parallel crops:
Green and gold
sunflowers track
dynamic sun.
Latin lovers lock
in narrow streets.
Gelati trickles
on my hand.
Italian terms:
Zucchini flowers or courgette flowers or long green marrow flowers, they are orange/yellow with five petals. To prepare, one cleans out the stamens and inserts a baton of moist white cheese called Buffalo mozzarella inside the petals. Delicious!
Chianti is the fresh wine from the Tuscan vines. It is rosso/red.
Gelati is Italian ice cream, and famous for good reason! It comes in a rainbow of flavours.
Sunflowers are dried to make sunflower oil, sunflower seeds in breads and cakes.

PP