Calling all writers of the Mosaic!

The time has come to nominate a member who you feel best demonstrated the CRITIQUE in March.  :block:





Nominate a member here by replying to this tile.

The award:
*Laurel Wreath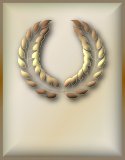 *Graphic provided by
Celtic Castle Designs

The details:
[*]Choose at least TWO posts critiqued by the member you'd like to nominate from the month of MARCH. *You can do this by utilizing our 'sort by topic start date OR last post date' and 'descending sort' functions located at the bottom of each forum's page display and then look to make sure the critique replies were made in February as well.  


[*]Post the two examples in this thread.
[*]Post only the CRITIQUES.
[*]Make sure your examples are from the month of MARCH.
[*]State the tile's name, author and forum the critique was replied to.
[*]Eligible forums:
Herme's Homilies and Seren's Synapse for poetry COM nominations

Stonehenge and Loch Ness for Prose COM nominations

Nominations will be taken through July 26th, 2005.

Additional note: If more than one member is nominated for the COM award, this tile will serve as a balloting process. We will create a POLL and the members will vote the winner.

Good luck all!



Thank you for helping to build the Mosaic!




Mosaic Musings Staff  





:roman: