The winner of our tenth annual Mosaic Musings Holiday Classic has been chosen! A special

goes out to our judges Bev (Peterpan), Karen (Anaisa), Snow (Eisa), Maureen and Carol Lynn. They were tasked with choosing 3 of the submissions they felt best represented the season, allocating 3 points for their top nod, two for second and one for third. The winning submission received 15 points awarded out of a possible 30, taking in 50% of the total; in other words, every judge chose it as their number one choice - FANTABULOUS results!





CONGRATULATIONS to Psyche (Sylvia) for her winning entry, "Christmas Reunion" in our tenth annual Mosaic Musings Holiday Classic! May your holidays always be memorable ...



~MM Staff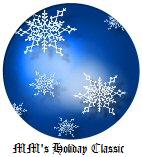 Christmas Reunion
Sylvia Evelyn, Bariloche, Argentine Patagonia. 2015.
December inched laboriously towards the festivities, leaving a trail of fretful shoppers attempting to purchase that final, symbolic gift for somebody's cousin just arrived from Chile; or perhaps for an odious personage they'd overlooked while writing Christmas lists... in Freudian slip mode. Meanwhile, the noonday Buenos Aires sun was wickedly transforming downtown asphalt streets lined with skyscrapers into veritable furnaces.
Cynthia, on the other hand, sat through a suburban garage auction, feeling sweaty and doubtful. Indifferently, she dropped her little brown handbag on the ground by her chair. She wasn't at all sure why she was there. Waste of time. Lots of tatty articles being sold off at a pittance, perhaps for thrifty -or stingy- buyers seeking Christmas bargains. If it hadn't been for Jack's sister, for respect, companionship and all that, she'd have upped and left half-an-hour ago.
Still, she sat there as if glued to her inflexible, plastic chair. I'm daft, she thought to herself; after all, Jack was my husband and now he's gone, why should I sit through this nonsense? Nobody even remembers me here. It doesn't matter one way or another what happens to that load of rubbish. Just odds and ends that Jack hadn't bothered to collect from his home, when Cynthia and he had married and gone off to live in Patagonia, so long ago. Family stuff, gilt-bound classic books, pictures, recipes, toys, candlesticks, silk scarves with damp stains on them... what the heck, he'd never had time to deal with all that. His sister should have thrown the lot out ages ago.
The monotony of the auctioneer's voice, the oppressive afternoon, everything seemed to combine to make Cynthia nod off to sleep. She wasn't sure how long she'd been dozing, when she abruptly realized that a peculiar silence had fallen on the small crowd of people, twenty at the most. It was the silence that had awoken her, she was certain.
She gaped in confusion up at the wobbly wooden stand where articles were being offered from a collapsing cardboard box. The auctioneer was holding up a water-colour of a glade encircled by trees and ferns, quite pretty, come to think of it... but suddenly Cynthia realized that there were two moss-covered mounds of earth nearly concealed in the woodsy scene. Her heart began to beat faster! She'd seen that scenario before, somewhere, many years ago... Yes! It had been Christmas Day, during that scintillating summer spent in Argentine Patagonia, in a log cabin they'd rented to get away from the strident city ambiance.
Cynthia sprang up and ran to the stand. - Wait, wait! - she cried, - I must touch that picture, I must inspect it closer, please hand it to me!
The man seemed unnerved, but he held it out to her. Turning the framed water-colour around, Cynthia read an inscription on the back in a whispering, tremorous voice:
And if thou wilt, remember,
And if thou wilt, forget.

Christina Rosetti.
Below it, a signature: Jack's!
- Hold on a minute! - Cynthia virtually yelped, - I'm sure you must have another water-colour in there, of a sun-dappled wooden bench beneath a leafy bower…yes… and creepers, flowering creepers over the window of a log cabin. The two pictures go together, they're a pair, I must have them both!
There was an air of suspense in the gathering of nameless people. They all seemed to know why Cynthia was so excited, so persistent. The auctioneer dipped into the cardboard box and eased out another water-colour, its frame chipped in several places. Cynthia gazed at it and, as if in a dream, two people seemed to materialize on the empty bench near a log cabin, arms around each other's waists, heads close together over a book of poems. She and Jack!
Then Cynthia saw only Jack beckoning to her from the sunlit bench, his lips inaudibly mouthing Christina Rosetti's poem, his eyes adoring her. She felt his longing, her own solitude... She glanced towards the other painting, saw the mounds of earth, yes, in the tranquil setting under the yielding trees, and all at once she knew... she knew it all: realization dawned on her as she remembered the glade, the comforting, cool earth, the carved wooden crosses. They had been put there by somebody, anonymously, barely visible in the overgrowth of wild foliage.
She was certain, now, where she belonged.
Resolutely, Cynthia stepped into the clearing in the woods, which embraced and soothed her, the fragile ferns encircling her body, the moss creeping over the twin graves, enveloping them…and her. She was home at last, with Jack. It was their Christmas reunion.
- - - - - - - - - - - -
The auction was over, though plenty of stuff remained unsold. People drifted away, clutching assorted articles. A boy stacked up the plastic chairs. He brushed fallen leaves off one of them, then spied a small brown handbag underneath it. Cynthia's sister-in-law saw it simultaneously, reached to pick it up at the same time as the boy. She grabbed it first, and they looked askance around them. To her, it seemed familiar, yet she couldn't remember it having been among her auction's items. Oh well, she thought, the owner's sure to return for it. Or not?
She'd overheard somebody murmuring when the twin pictures were being displayed:
-Yes, it was an exceptionally tragic event. Seeing those pictures brought it all back to me. I'm sorry Jack's water-colours had to be auctioned off. I understand he painted them for Cynthia. They both loved poetry.
Try as she might, Cynthia's sister-in-law couldn't bring to mind the person who'd purchased the pictures. She vaguely recalled some sort of commotion, then quietude… as if a veil had been drawn across a time-gap intruding on that seamless, lethargic afternoon.
The small, brown handbag was empty. It had a mouldy lining. She placed it on a stool in a corner of the garage. Next day there was only a light circle of feathery ferns in its place.
WELL DONE SYL! HAPPY HOLIDAYS ALL THE YEAR THROUGH!