Knight Award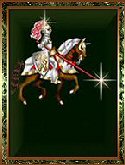 *Graphic provided by
Celtic Castle Designs
CONGRATS to Alan for receiving this Knight Award for a very knightly honor!






You've demonstrated excellence in letting your imagination soar!



The following pieces qualify for the Knight Award: the posting of 10 new topics for critique in Seren's Synapse - our free verse poetry crit forum.


Bothered and Bewildered and Ditched, 10/18/06
Golddigger's Rights, 10/20/06
Dawn, 02/02/07
Life is Like a Bowl of Pits, 08/31/07
Spring Idyll, 09/04/07
A Brief Life, 09/14/07
Liberty of Ambrosia, 10/28/07
Mugging Up on Old Age, 11/11/07
Strip for Action, 02/13/08
Requiem for a Rain Forest, 06/15/08

You've made us proud Alan!



Mosaic Musings Staff