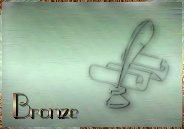 Depression's Sonnet
Why move when there's no place to go
for it's all filled. Black waters flow,
and I, perched on a pinnacle
of loneliness; an empty soul

without another one's bright light
to guide me through this starless night.
No one to understand that this
is but a bottomless abyss

that swallows heart and numbs the mind
beneath its cold mailed fist… unkind.
Lost little thing, that no one sees;
for there is none who can appease

or plea for mercy to abate
this hellish pain. It's much too late!