Knight Award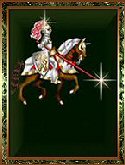 *Graphic provided by
Celtic Castle Designs
CONGRATS to Orion for receiving this Knight Award for a very knightly honor!






You've demonstrated excellence in letting your imagination soar!



The following pieces qualify for the Knight Award: the posting of 10 new topics for critique in Seren's Synapse - our free verse poetry crit forum.


Hot, 09/25/05
A Peaceful Night, 10/21/06
One Winter Wish, 11/11/06
Wicker Ricker Blues, 11/12/06
Sherry's Laughter, 03/03/07
Jammin' in May, 04/12/07
All Day Long for Daddy, 05/27/07
Notice, 06/17/07
Give and Take, 06/20/07
Freedom's Lift, 07/05/07
You've made us proud Jan!



Mosaic Musings Staff